Overview
Covalent's 'Data Alchemist Boot-Camp' pays participants $2,000 to learn Web3 analytics and facilitates careers in Web3.
The 4-week boot-camp teaches you how to create an in-depth Reach, Retention, and Revenue (RRR) report across multiple chains, protocols and user types.
A 'Data Alchemist' is a self-starter who is dedicated to project and personal growth in Web3.
About the Program
Covalent will be training "Data Alchemists' in the fundamentals of Web3 business intelligence and analysis. The bootcamp's curriculum spans 4-weeks, encompassing intensive course challenges and SQL-based learning materials. This includes completing analyses across multiple chains, protocols, and user types to create an in-depth Reach, Retention, and Revenue (RRR) report and corresponding charts and dashboards. These collaterals 'Data Alchemists' create will showcase their skills and talents in Web3, making them competitive for a career in the industry.
At Covalent, we plan on scaling this educational initiative to a 1,000 Web3 Data Analysts. There will be a new cohort enrolled every 4-weeks with a 2-week break in between each cohort – so don't get disheartened if you aren't accepted in the first cohort.
Week 1 – Reach, Retention & Revenue (RRR) framework for Web3 analysis
Week 2 – Building multi-chain analysis across 42+ chains with a standardized schema
Week 3 – Visualizing and storytelling with Data
Week 4 – Extracting in-depth comparisons with labeled on-chain data
Accepted participants will be receiving weekly grants of $500 USDC ($2,000 total) as they complete milestones. The first class will begin on October 19, 2022.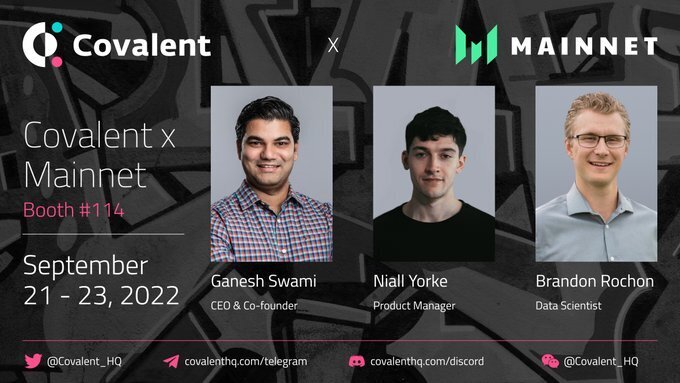 " The only prerequisite to joining our Data Alchemist Boot-Camp is a desire to learn about Web3; come with that, and we'll pay you to learn. There is a real need for individuals who are experts in this new cross-section of data and blockchain. We want to help train these future leaders to quickly fill these new roles in the near term. This boot-camp is how we try to spark change in an excited and rapidly growing community. "

Ganesh Swami, CEO (Covalent)
About Covalent
Covalent is a Vancouver Crypto Company which provides the industry-leading Unified API bringing visibility to billions of Web3 data points. Developers use Covalent to build exciting multi-chain applications like crypto wallets, NFT galleries, and investor dashboard tools utilizing data from 40+ blockchains. Covalent is trusted by a community of 30,000+ developers and powers data for 3000+ applications including 0x, Zerion, Rainbow Wallet, Rotki, Bitski and many others.
Learn More: https://www.vantechjournal.com/p/covalent-data-program
Register: https://www.covalenthq.com/blog/data-alchemist-announcment/